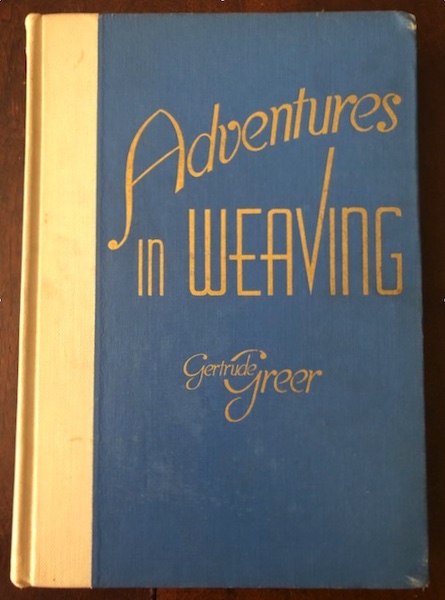 2024 – Gertrude Greer
This year we will use the book called Adventures in Weaving as our study topic and guide. This book was written by Gertrude Greer and was published in 1951.
Find it in Guild libraries or at used book sellers.
Find it online at Hathi Trust HERE 
Plan and weave a project using a draft from the book, or use the book as inspiration for a handwoven project.
The due date for completion of the study is May of 2024. Study results will be shared with ANWG members at the Annual Members Meeting in June, 2024.
Tips for Study Documenting & Reporting
Write up your report, with photos, drafts, your experience, what you learned, and any other pertinent information.
Include a detail photo of your work, as well as a photo of the full piece.
If you have added photos to your report, there is no need to also upload them into the groups.io photos pages.
Upload your report as a .pdf into "Files" inside groups.io online. The .pdf file preserves any formatting you have used in your report.
There is a logical order for how the files are stored. Take a few minutes to learn how your documents fit into the logic.
Upload .wif files of your drafts.
Tips for Photographing
Cropping is a good thing.
Clarity is a good thing. This is a tricky point. It needs to have enough data size to produce a clear photo, but not so huge it overwhelms the data storage limitations.
Consider the background visible around your weaving. Does it detract or enhance?