Congratulations to our Grant Winners!!!!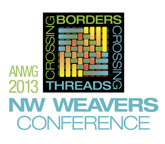 The board has selected the winners for this year's challenge grant. Applicants will be notified in the near future by board president, Betty Bell.  Thank you all who have applied.  ANWG Reps can now pick up information on our AMM in June.
On this website you may also find information on  fiber arts events
Regionally located fiber arts instructors
Information about guilds and contact information. Please check out the Indexes first to see what guilds are in your area and the representative for each.
Membership information and resources
Sale of used spinning and weaving equipment and supplies in free classified ads
The latest news about what is happening within the ANWG organization.
Visit us frequently to see what is new.
Now Seeking: Schools that Provide Weaving/Fiber Arts Instruction
If you provide  on-site weaving and/or fiber arts-related instruction/education, we are interested in listing your enterprise. See page on Education for details.
Weaving is an ancient textile art and craft that involves placing two sets of threads or yarn made of fiber called the warp and weft on the loom and turning them into cloth. This cloth can be plain (in one color or a simple pattern), or it can be woven in decorative or artistic designs, including tapestries. Weaving involves techniques that can be "on-loom" or "off-loom", depending on the type of weaving and the artist.
Spinning is the process of creating yarn (or thread, rope, cable) from various raw fiber materials.
©Association of Northwest Weavers' Guilds 2013
This is the official website of the Association of Northwest Weavers' Guilds,
a 501(C)(3) nonprofit organization.