Friday through Sunday, October 13-15
10 am to 5 pm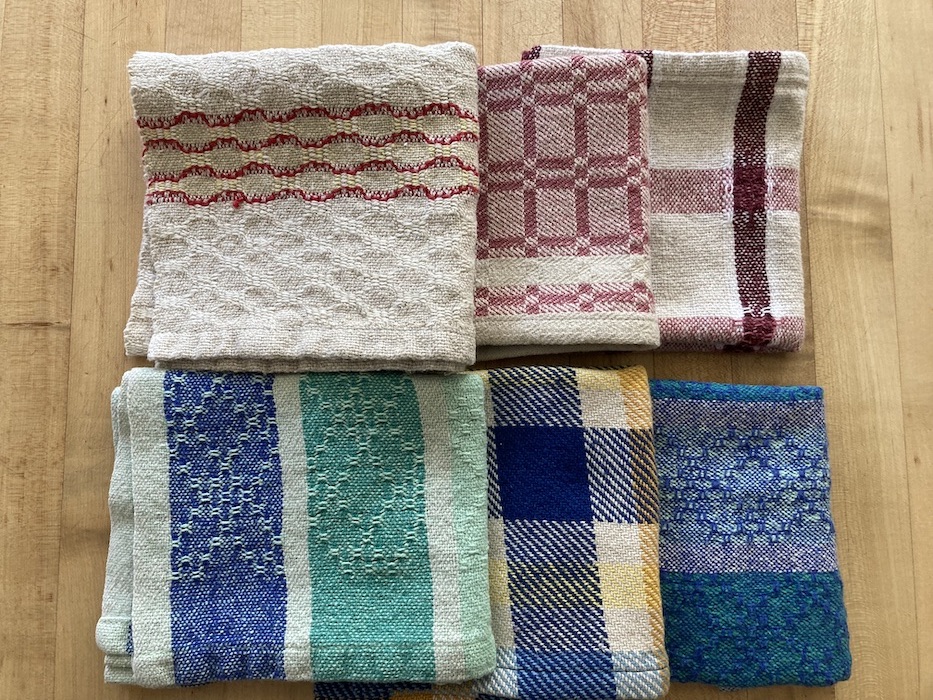 Have you woven some time in the past, but not recently? Have you wanted to get back to weaving, but you're feeling a little intimidated? Or would you simply like to walk into a studio with pre-warped looms, and spend your time weaving rather than preparing the loom? This class is for you!
Towel Extravaganza! Friday through Sunday, October 13-15, 10 am to 5 pm
Come build some confidence at the loom, refresh you skills, and leave with a nice bundle of hand-woven dish towels.
The humble dish towel, beyond being a great gift, is also a wonderful way to try out new weave structures and colors without investing a lot of time and money. And they're so practical! We will have looms pre-warped with a variety of fibers and weave structures appropriate for dish towels. You can weave off as many dish towels as time allows.
This class also provides an opportunity for discussions and demonstrations to hone your weaving skills, refine techniques, and gain confidence at the loom.
Students should bring note taking supplies to class. All other materials and equipment will be provided (though students who have their own shuttles and bobbins may wish to bring these as well). A materials fee will be charged to cover yarns and handouts, as well as a warping fee for the prepared looms.
Location: Jansen Art Center, 321 Front St., Lynden WA.
CLASS FEES Members: $265.50 Non-Members: $295
MATERIALS FEES (Paid to the instructor during class) Materials $55; Warping fee $70
To register, please visit https://www.jansenartcenter.org/events/towel-extravaganza/
Listing expires at 8:00am on Friday October 13th, 2023