The purpose of this list is to assist members seeking local and/or regional workshop leaders and speakers. ANWG provides this as a service but does not warrant or endorse any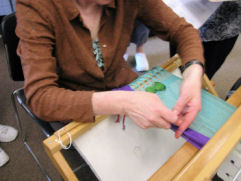 of these instructors.
To be on the list a person must live in the ANWG region.
If you would like to be on the list e-mail the webmaster with the following information:
– Name
– City, State/Province
– Email address or website link
Click on name of person to go to a personal website or contact by email.
NAME & CONTACT LINK

SPECIALTY

Abshire, Kris

Uncommon Elements/Esoteric Cloth

Atkins, Robin

Bead Embroidery

Berent, Mary

Weaving loom controlled structures, painted warp weaving and multi-shaft lace

Bibby, Terri

SAORI weaving instructions

Curran, Georgean

Spinning, Weaving, Bobbin Lace, Using Fiberworks PCW

Davis, Linda L.

Tied weaves, tartans, Bateman weaves, WeavePoint software

Davis, Nanette

Shibori, Baskets, Paper, Necklace

Dickerson, Katharine

Creating Visual Texture through Color Progressions, Flesberg Bound Weave, Sculptural Double Weave on 4-harness loom, Twining

Duncan, Elaine

Weaving, Tapestry, Colour and Natural Dyeing

Erickson, Jen

Weaving and natural dyeing

Evans, Rene Corder

Feltmaking, felted chiffons and laminated felts

Garripoli, Amelia

wheel and spindle spinning, fiber preparation, acid dyeing, sock yarns, sock machines, rigid heddle weaving

Hart, Lynne

Card weaving

Hendrickson, Linda

Tablet weaving, ply-splitting, ply-split baskets

Hewitt, Kathy

Japanese Temari

Hoskins, Nancy Arthur

Weaving, Historical Research

Irwin, Alison

Weave structures, Plain Weave, Inkle Bands, Kumihimo Braids

Johnny, Stella

Cedar Bark, Pine Needle, Coast Salish Weaving

Kubik, Linda

Wearable Garments with Handwoven Fabric, Surface Design

Lee, Carol

Natural Dyeing, Spinning, Fleeceweaving and Needlefelt Painting

Liles, Suzie

Linen and Lace workshop, Inkle Weaving, Weaving Structures 4 and 8 shaft

Loeffelmann, Sandra

Natural dyes, Surface Design

Malan, Linda

Tablet Weaving

Marcus, Sharon

Design, Weft-faced Weave Structures

Mayer, Anita Luvera

Clothing, Weaving, Embellishments, Knitting, Creativity

Moncrief, Liz

Weaving, spinning, dyeing

Paul, Jan

Velvet Weaving, Saganishiki (Japanese Gold Brocade), Andean Back Strap Weaving

Plotkin, Erica

Weaving, Silk Painting

Quinn, Celia

Spinning

Robert, Marilyn

Weaving, dyeing, Japanese textile techniques classes. Specialty ikat weaving,botanical dyeing, art textiles.

Sanders , Nadine

Weaving and Music

Schneider, Lana

Spinning, Weaving

Shannon, Joyce

Coiled Baskets

Shelhamer, Linda

Classes include dyeing and/or spinning self-striping yarns, punch needle embroidery, kumihimo, and faux-hard knitting.

Sherrodd, Kristie

Weaving, business and marketing for textile artists

Spady, Robyn

Weaving, Jewelry, marketing, COE-W

Spark, Patricia

Felting

Sprenger, Elserine

Surface Design

Sutton, Polly Adams

Cedar Bark Baskets

Tarses, Bonnie

Ikat, Color, Weaving

Todd-Hooker, Kathe

Tapestry

Vallance, Gayle

Spinning techniques

Van Horn, Larkin Jean

Art Quilts, Beadwork, Wearable Art, Collage, Assemblage, Embellishments

Walker, Barbara J

Warp Patterning, Free-form Woven Embellishments, Ply-splitting, Design

White, Sylvia

Baskets Using Metal Wire, Gourd Preparation

Willingham, Sue

Willingham Weavery conducts classes in beginning and inter-
mediate weaving on Vashon Island.


Winter, Rebecca

Color 'n Weave, Shadow weave