ANWG 2017 Conference Treadle Lightly
Conference Dates: Saturday, July 1 & Sunday, July 2, 2017
Pre-conference Workshops: Wednesday to Friday, June 28-30, 2017
All the information about pre-conference workshops, classes, and seminars, as well as registration options and accommodation information is now available on the site. It's time to plan your conference!
Registration will open January 17, 2017 9.am. P.S.T.
Latest Newsletter
ANWG Board Vacancy: First Vice President
We are looking for a new First Vice President. If you have had some leadership experience in the past and appreciate the way in which ANWG has been able to support the work of our guilds, consider applying for this position. Or do nominate someone you know would be a good fit for this position. Contact Anne Oglevie at annreoglevie@gmail.com or Mary Anna Swinnerton at luvmaps2@bendcable.com to apply or for more information.Note: There are four elected officers on the ANWG Executive Board:  President, First Vice President, Secretary and Treasurer.  The other members are the chairpersons of the standing committees (Education, Membership and Communication), and are appointed by the President.
Show&Share at the Annual Membership Meeting
The Board and Guild Reps met in Victoria BC for the Annual Membership Meeting on Saturday June 4, 2016 at the site of the next ANWG 2017 NW Weavers' Conference "Treadle Lightly". 
Each rep was asked to submit a piece from their guild. In total, twenty-five pieces were on display (see the list below).
Congratulations to the Handweavers Guild of Boise Valley who won Best of Show, Most Inspiring, and Best Weaving  and Arachne Weavers Guild for Best Use of Color.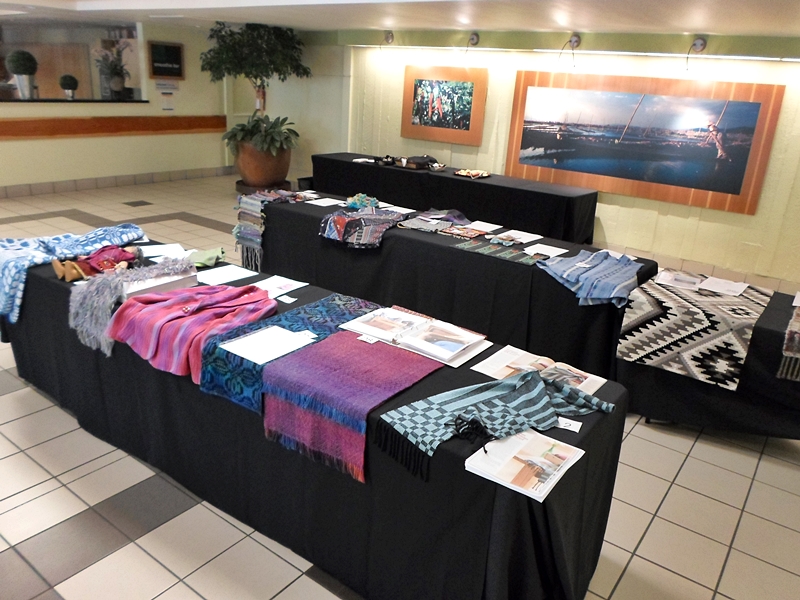 | | |
| --- | --- |
| Guild | Work |
| Handweavers Guild of Boise Valley | Coverlet |
| Central Oregon Spinners and Weavers | Scarf |
| San Juan County Textile  Guild | Towel |
| Salem Fiber Arts Guild | Throw |
| Coquitlam Weavers & Spinners Guild | Blazer |
| Greater Vancouver Weavers and Spinners Guild | Self-portrait |
| Columbia Fiber Guild | Scarf |
| Ponderosa Spinners and Weavers | Saori hanging |
| North Olympic Shuttle & Spindle | Vest |
| Portland Handweavers Guild | Towels |
| Victoria Handweavers and Spinners Guild | Vest |
| Skagit Valley Weavers Guild | Wall hanging |
| Seattle Weavers Guild | Tapestry |
| Tacoma Weavers Guild | Runner |
| Arachne Weavers Guild | Shawl |
| Olympia Weavers Guild | Shawl |
| Qualicum Weavers and Spinners | Runner |
| Whatcom Weavers Guild | Tapestry |
| Gorge Handweavers Guild | Bow Ties |
| Nanoose Bay Weaver's and Spinners Guild | Lockspun yarn |
An Archive of past newsletters can be found here: Archive