2017 Northwest Weavers Conference
The 2017 Northwest Weavers Conference sponsored by ANWG will be held in Victoria B.C. on the grounds of the University of Victoria. The dates for the pre-conference workshops are June 28th to June 30th. The conference is July 1st and July 2nd.
http://www.anwgconference2017.com/

The 2013 NW Weavers Conference…..

The 25th Association of Northwest Weavers' Guilds biennial conference was held June 17-23, 2013 at Western Washington University in Bellingham, WA. A list of award winners for the various exhibits is  now available on this page. Thank you to the Seattle Weavers Guild for hosting this event with significant support from Puget Sound area guilds from Seattle to Vancouver, B.C.
Prince George has stepped forward to host a conference in 2019. And as is tradition, Oregon guilds (WeGO) are hosting once again in an "01" year, 2021. If you are an ANWG member guild and are interested in finding out about how to host a regional conference, please contact a board member.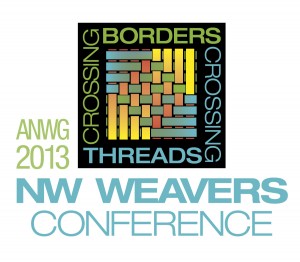 ANWG sponsored conferences are held every odd-numbered year at a location within our region. Member guilds have traditionally been the "hosts" with financial assistance and support from ANWG.
Past Conferences:
2009 "Weaving Waves of Color", Gonzaga University, Spokane, WA  Conference Registration Book
2007 "Wild Fibres", Red Deer College, Red Deer, AB Conference Registration Book
2005 held at the University of Puget Sound, Tacoma, WA.
2003 held at Pendleton, Oregon
2001 held at University of Oregon, Eugene, OR [/box]